Hilary visits Beantown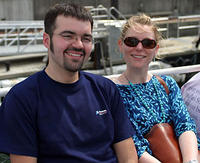 Hilary, an old Keen State college buddy of mine, came to visit me this past weekend. We had a really cool time catching up, walking around Boston, playing in water fountains, checking out the North End festival, Newbury Street, a boat ride on the Charles, eating gelato and a real crowd pleaser... Cheers! Anyway,
here are some photo's
from the weekend!