Oxford 3 Speed Restoration
Latest project...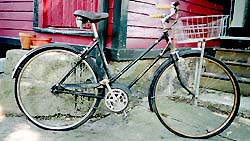 This is a 50's British 3 speed "Oxford" cruiser I restored from ground up. My friend Brendan found it in someone's trash and though it would be a fun project for me. He was right. I ended replacing all of the cables, housings, tires, brakes and rebuilt the headset and spent hours polishing the chrome.
Here's
what is look like all decked out with a basket, bell and new seat.